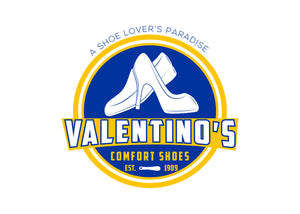 C'MON FEET, DON'T FAIL ME NOW!
Healthy, happy feet are amongst the essentials for living life to the fullest.  That sentiment was expressed as a lyric in a song decades ago: "C'mon feet, don't fail me now!"  It is a timeless concern that sometimes becomes more intense as we age.  And, at Valentino's Comfort Shoes we address that concern by offering selections of stylish, well-made, comfort shoes.  Our sales personnel are trained in a variety of ways to assure that our customers leave with happy feet.
What are some facts to bear in mind when shopping for footwear that will keep your feet happy?
Did you know that your feet, just like others parts of your body, change with age?  Some customers insist, "My size is 6-1/2, medium width.  I have been that size all my life."  Well, there are many times that is no longer the case.  And, if one refuses to accept that one's feet are now a half size larger or wider, the wrong size shoe will lead to pain and possibly the need for help from a podiatrist.  Changes such as fallen arches and a myriad of other medical issues may occur from wearing improperly fitted shoes.  That is why our shoe sales personnel are trained to measure each customer for proper size.  And, we are proud to state that local podiatrists recommend our store to their patients.
Did you know that shoes have a life span?  Shoes, like our clothing, suffer from wear over time.  After 6-8  months of regular wear, shoes should be examined for uneven wear, relaxed support, etc.  Like car tires the treads at the bottom of sneakers lose their 'traction', glue used to bind the rubber breaks down, etc.  Leather can lose its suppleness and split or crack if it is not given proper care.  Even the best made footwear falls prey to age.  Products are available to preserve shoes, however, like everything else, there is a life span even for footwear!
Did you know that shoes, just like clothes made by different manufacturers, are cut and/or sized differently?  For example, a size 8 made by one shoe manufacturer in a particular style, is a half or whole size larger when made by another manufacturer in a similar style.  Some manufacturers are more generous with sizing than others.  Not every shoe is adequate for every foot.  For some reason, this difference is readily acknowledged when it comes to clothing, but not given any consideration by some when shopping for shoes.  In addition, some manufacturers only manufacture medium width.  Many manufacturers do not offer all styles in all sizes and widths.  At either end of the spectrum (ex. sizes 4, 5 or sizes 14,15) the offerings are limited because they are simply not manufactured.  The demand for these sizes is limited.  And, certain casual footwear such as sandals and slippers are only offered in whole sizes.  
Did you know that comfort shoes are stylish?  Times have changed; that's the good news! We carry one of the largest selections of comfort shoes available for every occasion.  Our buyer attends shoe shows in Milan and Brazil as well as various shows in the United States.  In addition to making careful selections and maintaining high standards for quality, the buyer is mindful of the cuts available from various shoe manufacturers and does his best to assure footwear is available for as many different foot related problems as possible  Valentino's Comfort Shoes offers a large selection of orthotic friendly shoes.  Some of them come with 3 layers of support, shock absorbers at the heel and ball of the foot; all for extra comfort.  Be assured that comfort shoes are for everyone; especially for those with careers that demand most of their time spent on their feet and moving about throughout their day.
Why shop at Valentino's  Comfort Shoes?  Our trained sales personnel will properly measure your foot, will listen to your foot concerns, and are prepared to offer suggestions or explain why a particular style might offer more comfort.  Customers are given as much time as needed to make a selection and are encouraged to walk around the store to be certain the fit is comfortable.  We offer footwear in sizes 4-16 and widths that range from narrow to XXX wide up to 6E.  It  is our belief that shoes should be tried on and professionally fitted, and we welcome customers to our store located at 589 Old Country Road, Plainview, New York 11803 (516 261 9557).  
---